Premium Greek olive oil and special olive-based products: new in our shop supplied by Rolf Roost and Sonja Roost-Weideli. After more than 25 years of selling directly to customers, they have now entrusted us with their remarkable business.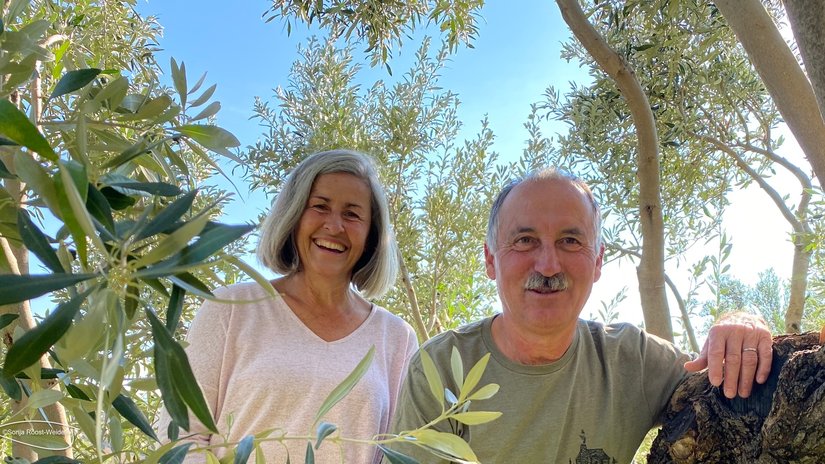 "Direct sales are our priority. We always wanted to know who our customers are," says Sonja Roost-Weideli, here at the gebana headquarters. Rolf Roost agrees. Both are currently visiting Switzerland. Or, rather, they're spending a few weeks in their home country. Rolf and Sonja divide their time between Switzerland and Greece. Their energy and drive are palpable.
Since January 2023, Rolf and Sonja have been supplying the gebana shop with their premium olive-based products, such as extra virgin olive oil infused with fresh herbs, tapenade with capers and garlic, and flavourful Kalamata olives. They have been selling these speciality products from the southern Peloponnese for over 25 years. It all began quite modestly with a bicycle trip to Greece.
Humble beginnings
They both felt a deep connection to the country right away and started to think about settling down there. "Our goal at first was to build a natural stone house in Greece by ourselves," explains Rolf. "There were also some olive trees on our property, from which we produced our first oil. The first 100 litres were simply too much for the two of us, so we gave the first batch away as gifts to family and friends in Switzerland." It was a great success, and over the next few years, the people who had received oil kept asking whether they could get more. Word about the olive oil soon spread, and what began as a hobby grew into a small business.
Rolf and Sonja quickly realised that they had more fun selling the products than they did harvesting and processing the olives. "We're not farmers," they say. They started looking for a mill that could produce their product according to their vision. "It was clear to us from the beginning that we wanted to sell organic oil in 5-litre canisters. That would provide enough for an entire year in one go."
Rolf and Sonja gave the first batch of olive oil to friends and family in Switzerland
As production grew, they managed the sales of their special olive-based products.
Rolf and Sonja were always in charge of product development
Rolf and Sonja have been dividing their time between Switzerland and Greece for over 25 years.
Long-term collaboration with mills and family farmers
In the 1990s, it was challenging to find family farmers who practised organic agriculture. Although many olive producers were already farming without using pesticides, they weren't certified. The pair finally found what they were looking for in Malta-Stavropigio, about 70 kilometres from their natural stone house. "Our Greek teacher recommended a mill that was just perfect for us. It strives for the same standards in quality and naturalness as we do. We have a very close relationship with the people there and we know all the family farmers who deliver their olives to the mill personally," says Sonja.
Anywhere from 3 to 6 family farmers supply their organic olives to the oil mill in the southern Peloponnese – and it's been the same families for years. Meanwhile, Rolf and Sonja handle the marketing in Switzerland. "Selling through wholesalers or advertising campaigns was never an option. It's very important for us to have direct contact with our customers. One of the things we did was to organise 'oil festivals' in Switzerland where we gave presentations about the origins of the oil and everything you can do with it. Sometimes we received as many as 600 visitors."
Total control over product development
Soon after they began to export their olive oil, they added Kalamata olives and olive tapenade to the range. "For a long time, we made the tapenade ourselves in our little production area at home. Now a farmer's wife in the neighbouring village has taken over the production," explains Sonja. Sonja also came up with the herb mixture for the Kalamata olives herself. The recipe remains a secret to this day.
Rolf and Sonja's loyal customer base grew steadily. But their goal was never to expand the business as much as they could. "We made enough to cover everything with a bit left over. As creative people, we need room to breathe. We always wanted to have some time for other projects, in addition to our work. It's what people now refer to as work-life balance – we just always wanted to live well," says Rolf.
A shared philosophy
After more than 25 years of direct sales, Rolf and Sonja have now entrusted their business to gebana. We'll be selling their products through our online shop. "I have always been interested in what gebana was doing. I found it very impressive. There seem to be many parallels with our own philosophy," explains Rolf. "We have plenty of things in common, such as bulk packages, pre-orders and long-term working relationships with family farmers." Rolf and Sonja have entrusted not only their products to us, but also the customer base they built up over the past 25 years.
When asked where they want to live from now on, they laugh. "When we built our house back then, we were often asked whether we would move to Greece. We didn't have an answer at the time, and we still don't. Our plan is to live in both worlds for as long as we can."
We appreciate the trust that Rolf and Sonja have placed in us. Their extraordinary labour of love is now in our hands. We will do our best to carry on in the same spirit.